VAPING FOR BEGINNERS
The beauty of deciding to quit smoking cigarettes and making the switch to vape is that you don't need to make a final decision. There's no need for one last cigarette or a ceremonial goodbye because the entire process is gradual and doesn't evoke pressure or fear.
Your decision to start your smoke free journey might not happen overnight but it's important to remember that every journey starts with a single step. We're here to help you transition from smoking cigarettes to vaping and this guide will outline everything you need to know to make it possible. Millions of people just like you have been able to successfully switch from smoking traditional cigarettes to vaping.
Switching from Cigarettes to Vaping
Vapanada has a wealth of knowledge in the vaping industry and our experience has equipped us with the skills to help you switch to vape.
What happens when you quit smoking and switch to vaping?
There are a few things that every new vaper needs to know: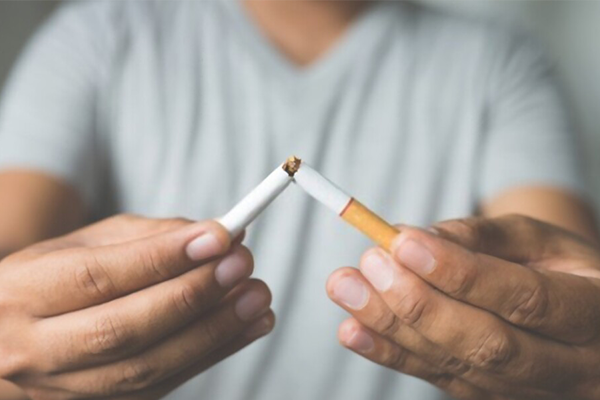 Make sure to avoid smoking triggers
It's important to start out by asking yourself why you want to quit smoking and become a vaper. Is it because you have health concerns, financial stressors, or maybe just the smell of the ashtray? No matter what the reason is, it's important to always keep it in the back of your mind. Write down this reason and look at it every time you get the urge to smoke a cigarette.
When do you crave a cigarette most? Is it when you first wake up and have your morning cup of coffee? It's very useful to identify what triggers your cravings so you can work on beating them before they start.
A good tip is to always have your device with you so you can address those triggers. Another tip is to always make sure you have everything you need to curb your cravings. Making sure your e-cigarette is charged and you don't run out of e-juice will ensure that you can always reach for your e-cigarette as opposed to a traditional cigarette. Vaping is one of the best ways to quit smoking because you can always curb your cigarette cravings with an e-cigarette.
Why do e-cigarettes work so well to quit smoking?
E-cigarettes are ideal for quitting cigarettes because they help smokers mimic many of the same habits, sensations, and behaviours.
Hand to mouth action.
The movements you make when you smoke cigarettes are the same movements that you make when you vape. Both experiences require you to lift something to your mouth and that habit can be hard to break for an e-smoker.
The sensation of inhaling.
Smokers inhale smoke from a cigarette and vapers inhale vapour from an e-cigarette. Both experiences require you to inhale so you won't miss a thing when you switch from smoking cigarettes to vaping.
Exhaling
Exhaling a large cloud of smoke and releasing is a sensation that smokers often miss but this sensation can be mimicked with vaping when you exhale and create a cloud of vapour.
Nicotine delivery.
Vaping is a alternative to smoking cigarettes that can help you satisfy your nicotine cravings in a safer and cleaner way.
Throat hit.
As a smoker, you're familiar with the sensation of experiencing a throat hit and you can mimic this sensation by vaping.

E- cigarettes are as harmful as smoking.
There are many studies that prove that e-cigarettes are not as harmful as traditional cigarettes. In the first long-term health study of a group of vapers that had never smoked that was conducted over a period of three and a half years, Professor Riccardo Polosa of the University of Catania and his research group concluded that rather than just being far safer than smoking, long-term vapers who had never smoked were identical in respiratory health to those who had never smoked or vaped.
E-cigarettes don't help you quit smoking
At the beginning of 2019 a research team, led by Professor Peter Hajek published the results of a randomized trial in the New England Journal of Medicine. The results concluded that e-cigarettes were not only helpful in quitting attempts, but that they were also almost twice as effective as other nicotine replacement products.
Second-hand vapour is harmful
It's widely known that second-hand cigarette smoke is harmful, but the same thing can't be said for e-cigarettes. The Lorillard Tobacco Company published a study that revealed that passive vaping isn't harmful. The 2014 study compared the levels of carcinogens in second-hand vape to second-hand smoke. The study then concluded that second-hand vapour contains the same level of carcinogens as the ambient air that everyone breathes.
Vaping is more addictive than smoking
Although nicotine is an addictive substance, there is no concrete proof that suggests that vaping is more addictive than smoking cigarettes. There is however research that suggests that e-cigarettes are less addictive than traditional cigarettes.
I'm a vaper, what's next?
Congratulations! You've officially taken the first step on your journey. It's normal if your journey takes a little extra time and it's important to keep trying and remain positive. Don't let the pressure of quitting get in the way of your success, millions of vapers just like you have successfully quit smoking cigarettes!
Don't hesitate to reach out to our experienced and extremely dedicated staff if you need any help picking out the right products or if you need support along the way. We're here to make your transition from smoking cigarettes to vaping as seamless as possible.