DELIVERY
LOCAL DELIVERY
We bought a brand new car just so you can get your orders delivered to your door from Monday to Saturday!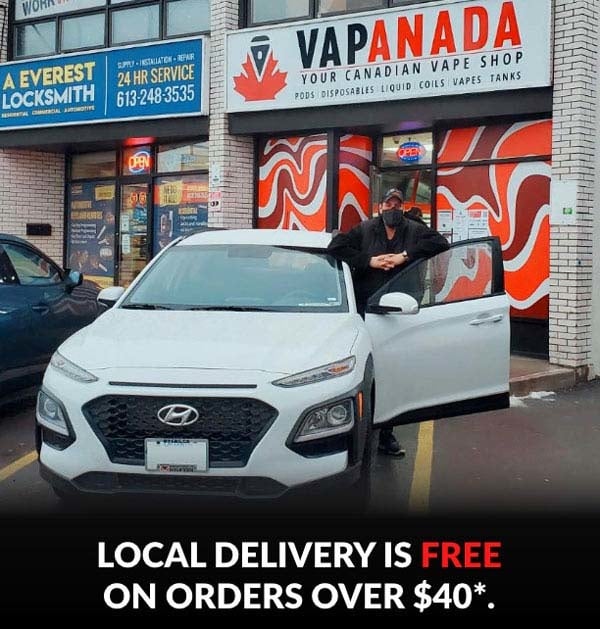 A small delivery fee of $5 will be applied for orders under $40.
Cut-off time for local delivery orders is 4PM Monday – Friday and 3PM on Saturday. There is no local delivery on Sundays. All orders placed on Sunday will be delivered on Monday.
Our local delivery coverage zones include:
West: K2A K2B K2C K2E K2G K2H K2J K2K K2L K2M K2R K2S K2T K2V
Central: K1N K1P K1R K1S K1T K1W K1Y K1Z K2P
East: K1B K1C K1E K1G K1H K1J K1K K1L K1M K1V K1X K4A
Gatineau/Hull: J8P J8T J8X J8Y J8Z J9A J9H J9J
CANADA POST DELIVERY
In addition to our local delivery and in store services, we offer FREE shipping through Canada Post on orders that exceed $40*.
Shipping costs will be applied for orders under $40. Shipping may be delayed and take multiple business days due to the COVID-19 pandemic. A valid government issued ID is required for all purchases and you MUST present your ID when your items are delivered.
We process online orders Monday to Friday from 10am to 4pm and 10am to 3pm on Saturday.
Believe it or not, people place orders at 10pm and then send us a message right away asking when will they get there orders. Please remember that we are human too and do need our 8 hours of sleep.
CURBSIDE PICK UP
Customers can safely order online and visit any one of our four locations across Ottawa for curbside pick-up. Once you arrive your order will already be ready for you.
All of our locations are open 7 days a week - please see our contact page for our hours.
Please remember to wear a mask and present your government issued ID when using our curbside pick-up delivery option.
OUR LOCATIONS:
Bank & Heron
1581, Bank St.
K1H 7Z3
613-680-7778
Byward
120, Rue Clarenece St.
K1N 7E7
613-244-0111
Barrhaven
3191 Strandherd Dr Unit 103
K2J 5N1
613-823-7718
Wellington
1307 Wellington St
K1Y 3B1
613-715-9591